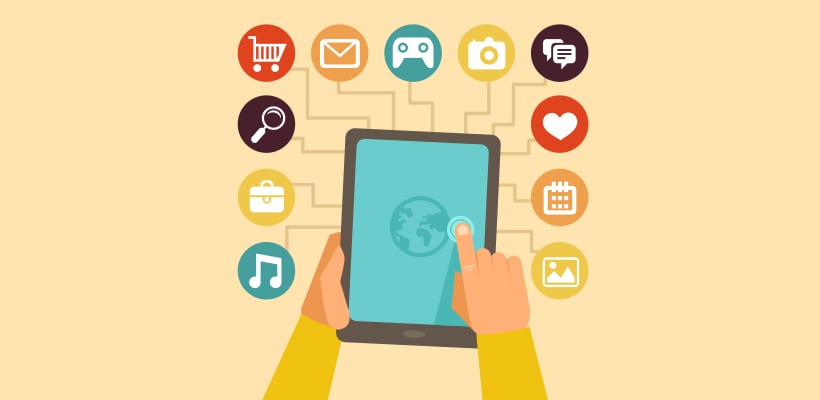 The benefits of a mobile app to your business is just too glaring to ignore as a business owner who wants to succeed.
Something tells me you are currently reading this on your mobile phone. By 'something' I mean common sense of course!, because quite simply, getting a mobile app for your business is just common sense.
Mobile devices have become one of the most important parts of our life, if not the most important. This is why it frankly surprises me when business owners refuse to take full advantage of them.
The average Adult spends at least 7 hours daily on their phones. Imagine the amoung of sales you can make if your business lives in a device that your customers literally can't spend a day without. And most business refuse to take advantage. You should.
The benefits of a mobile app to your business is just too many to enumerate. But in this article, I will give you at least 4 benefits. Then common sense can do the rest.
1. First Benefit of a mobile App: Value Exchange
Business is all about reciprocation. You offer a product, the market opens their wallets with their demand, right?
Business is all about the exchange of value. You provide value in the form of your products or service and get value back in the form of money and profits. That's really all there is to it. With a mobile app it is very easy to provide that value to your customers.
This value can be in the form of a loyalty program within your app, where the more customers interact with your business through your app, the more points they collect. These points can be used to offer discounts to your customers who are app subscribers.
Starbucks benefits their customers using this exact method. Whereby they offer rewards exclusively to app subscribers, which motivates their customers to buy more coffee and snacks from them.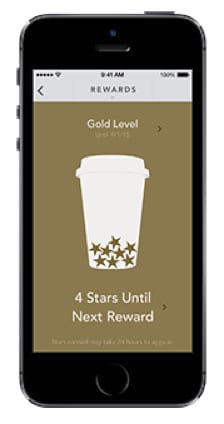 If this system of encouraging your customers is something you are already practicing in your business, you will benefit more if you incorporate it into your mobile app. If you don't have a mobile app for your business yet, the get one now!
2. Build a Stronger Brand
Do you know the message a mobile app sends to your customers? it says 'this is a legit and professional brand that I can trust with my money'. When a user has your app in their phone, they are more likely to engage with your brand because subconsciously, if you are in my phone, then I must trust you. right?
The more these users trust you, the more likely they are to listen to your sale pitches, engage with your in-app ads, email marketing etc.
In the same way as distributing fridge magnets, calendars, and other random memorabilia with your company logo on it has served in the past both as advertisement and assistance, mobile apps strengthen your brand and educate your customers.
That's why so many businesses across all the major sectors are developing strategies for mobile apps. Check out this data from the Red Hat Mobile Maturity Survey 2015: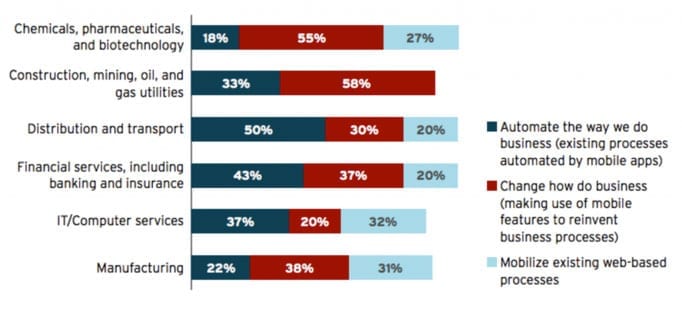 This is more than you can shake a stick at. Everyone is getting on board.
3. Connect Better with Customers
Customer service isn't just about face to face communication between smiling sales associates and customers anymore.
Since 2.6 billion people now have high-powered mobile devices within arm's reach at all times, the true game-changer in customer service is now mobile apps.
Why?
Firstly, your app won't be merely a human being, subject to mood swings and poor performance.
And, through a solid mobile presence, you'll always know you're presenting to the customer the same face – an interface geared specifically to provide them with the best experience of studying and deciding whether they want to buy your product.
In fact, the vast majority of marketers see their apps as a means to primarily improve customer service.
Without sounding creepy, your business is always with your customer. (Okay, maybe there's no way around that one.)
But think about it. If a person hears about your app in the middle of the night and wants to get information ASAP, all they have to do is turn on their device and download your app. Later, when a thought pops into their head that they should buy your product, they can do it immediately, without having to wait for regular business hours when normal human beings are awake.
So, if customer service is one of your top priorities (like it should be), mobile apps are the answer to raising customer satisfaction across the board.
4. Boost Profits
When customer satisfaction increases, sales typically do too. In fact, according to SalesForce, 70 percent of buying experiences are influenced by how customers feel they're being treated.
The more interested and pleased people become with your product and your business, the greater consumer demand will grow. And let me assure you, if you have a product your customers can't wait to get their hands on, that demand is going to provide you with some serious returns.
That's where the mobile app comes in like none other. But it's important to keep costs low while you're developing it.
Sure, you should have a website with a responsible design that can adapt to any of the various mobile devices there are now. This eliminates the necessity of having a frustrating, secondary "mobile" site to manage. But if you launch a mobile app in addition to your responsive website, you'll boost sales while enhancing the customer experience.
According to Techcrunch.com, 35.4 percent of Black Friday sales last year were completed on mobile devices. That's up from the 16 percent they were just a few years ago, according to 2012 IBM Holiday Benchmark Reports.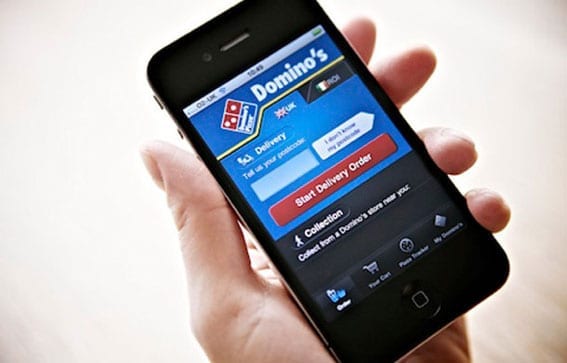 When Domino's Pizza created a mobile app for ordering delivery or in-store pickup of their food, they saw an ecommerce rise of 28 percent in half-year pre-tax profits in the UK alone. And I know I'd rather use their app than actually call the store.
In fact, mobile devices now account for 52 percent of their online orders.
Are you seeing a trend here? If you aren't using a mobile app that encourages more purchases while making it easier and more exciting for your customers to press the "buy" button, you're missing out on a huge chunk of change from an ever-growing market.
The Bottom Line
90 percent of companies plan to increase investment in mobile apps in 2016. If you don't, there's a good chance you'll be left behind your competitors.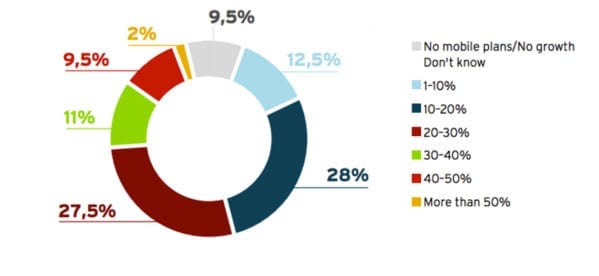 And no, a mobile app may not save your business, but it is a sure way of securing a strong presence in your industry. Instead of being some abstract concept of a brand your customers appreciate, that they imagine has a headquarters in some faraway city – you'll be right in their pockets. Your logo will be placed on their mobile phone screens by default.
Just make sure you promote your app after it launches.